The only complete Silicone Adhesive attachment kit, ready to go. Fits all the items needed when attaching or removing an appliance. Ideal for use in the on-set bag. Contains 1/2oz adhesive, 1/2oz thinner and 1/2oz remover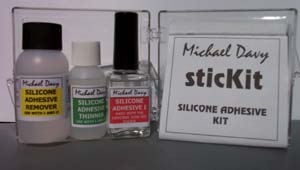 MILD AIRBRUSH TATTOO STENCIL ADHESIVE
1oz. $6.00, 2oz. $10.00, 4oz. $18.00
A skin safe theatrical adhesive which washes off with soap and water. Does not "attach" the stencil but simply tacks it in place for a light hold. Apply to the reverse of the stencil before application and press onto skin. When removed any residue can be wiped away with a baby wipe or dampened tissue without disturbing the tattoo. Can be preapplied to the back of the stencil and allowed to dry for storage. When ready to apply simply apply alcohol to the stencil back to reactivate the adhesive. To clean stencil wash with soap and water.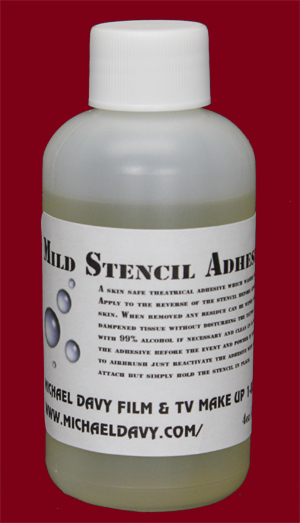 SPIRIT GUM

0.5oz. $2.00, 1oz. $3.00, 2oz. $4.00, 4oz. $5.00, 32oz. $40.00, NO DISCOUNT: 1 GAL $100.00,
"OLD RELIABLE". The standby of dramatic artists for over a century. With Spirit Gum, "less is more". A very thin layer of Spirit Gum is usually enough to hold most anything. Bald Caps, latex appliances, crepe hair, wax constructions, glitter etc. Remove with rubbing alcohol (70%) or, more preferably, ISOPROPYL MYRISTATE.
WATER SOLUBLE SPIRIT GUM

0.5oz. $4.00, 1oz. $6.00, 2oz. $8.00
A mild adhesive used when flattening hair under hairpieces or for flattening eyebrows for eyebrow covers. Great for schools or masquerade where removal should be easy. Not durable under stress or perspiration but fine for classroom situations or when applying glitter, feathers or body jewels. Removes completely with soap and warm water.